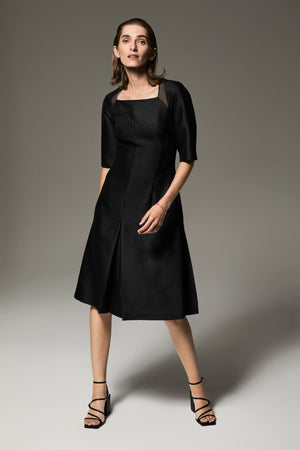 Mona Wie
Emma
Sale price Price $793.00 Regular price
Little black dress with square neckline and silk chiffon between yoke and shoulder that creates an intriguing "bolero" effect. The lower part features 4 box pleats for extravagant mobility.
Covered zip closure in the back. Made from luxurious silk-wool Mikado.
The hemlines are finished with black silk bias tape.
At our first encounter, Emma and I were thinking of flattering and elegant dress designs and Emma expressed her love for box-pleat skirts. When the designer showed the first sketches of this dress, there was no doubt who this dress should be named after.